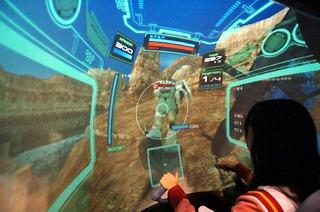 Kotaku
has a come across photos of Namco's POD (Panoramic Optical Display) arcade cabinets. You sit in these cabinets with huge, curved, crisp displays and play arcade games. The game on display was based on Gundam and involved driving around giant robots, blasting the holy peanut butter out of other players.
Now really, what could be better than pictures of
cute Asian girls playing video games of giant mechs on huge panoramic displays
? Anything? Drawing a blank here.
Click the image for the
whole photo selection
.